Rate & Market Information
FAK rates remain well above historical averages, and most carriers have decided to maintain current level till the 14 December. Carriers such as ONE, HPL, CMA and COSCO will stop accepting USWC BP cargoes on some services starting in Mid-December. Since a lot of vessels are stuck outside US ports, there will be additional blank sailings in December. We have been utilizing other new carrier options with extra spaces and equipment. CUL is improving their services with decreased average dwell time at LA/LGB ports to 30 days which is much less than THEA and 2M carrier.
Sign up to Receive JMR's Freight Market Updates Delivered Directly to Your Inbox
Port / Space / Equipment Conditions
Blank Sailings in the coming weeks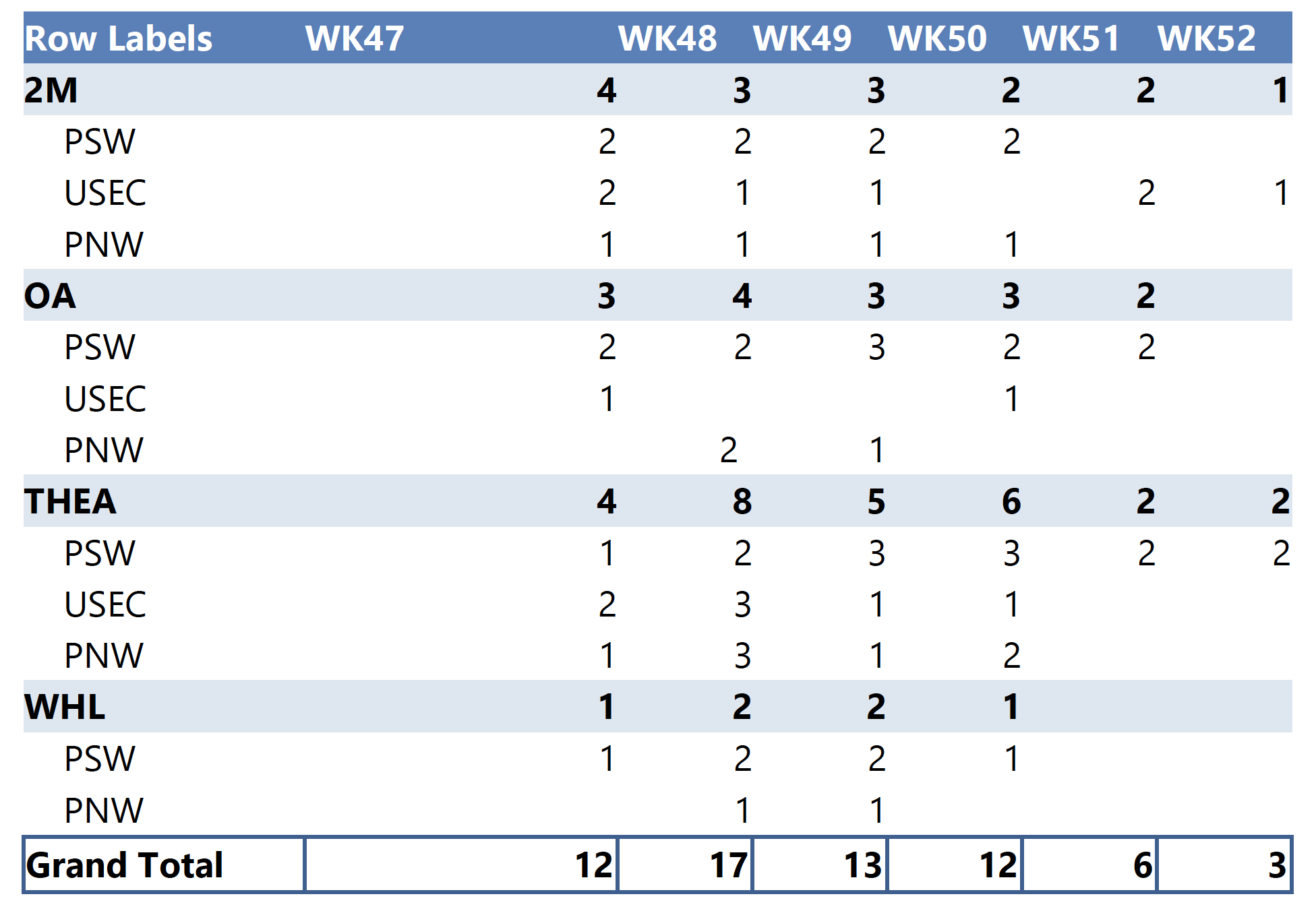 Top 6 Origin Ports with most blank sailings from week 47 to week 52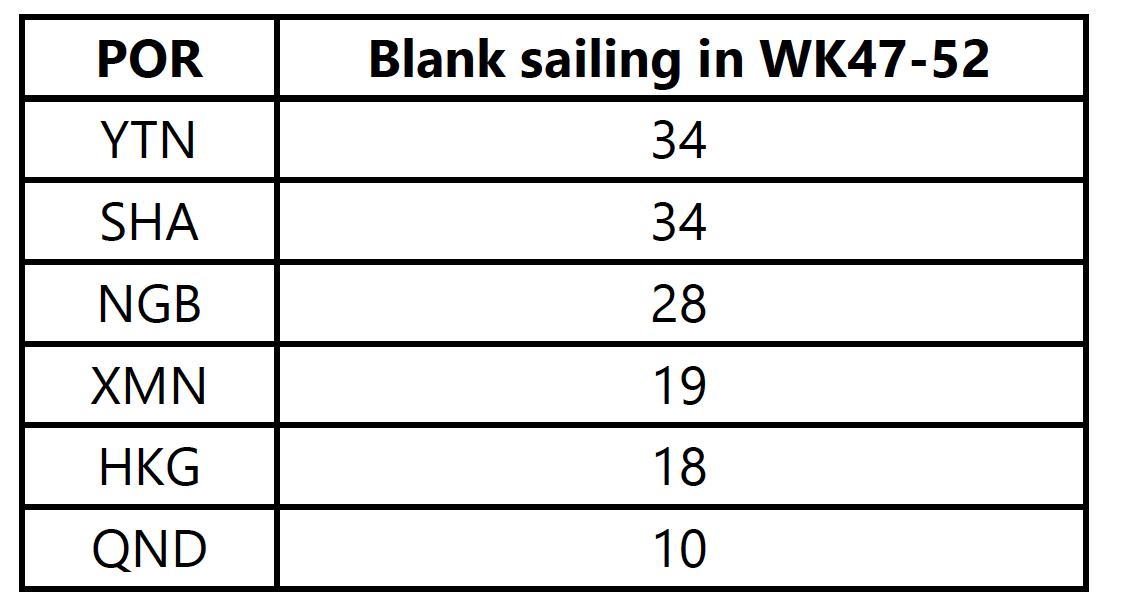 Space situation ex South East Asia
Vietnam
MSC:
HPH: 100% Diamond Tier Space only
HCM – USWC release per ratio DT/FAK 2/1 while 100% Diamond Tier space to USEC
ONE/YML/HPL/HMM:
PN2/FP2/PS3: Blank sailing on week 48 EC6/WK48 slide to w49 PS3/WK49 slide down to W50 FP2/PS3/EC5: Blank sailing on week 50
COSCO/CMA/EMC:
CPNW: Blank sailing on week 48
DAH/OPNW: Blank sailing on week 49
PEX3/GME2/CPNW: Blank sailing on week 50 CJX/SEA2: Blank sailing on week 51
ZIM: extremely shortage space from HPH due to no feeder vessel
Thailand
Overall space is full till 3rd week of DEC. Mostly carriers can offer only premium but still subject to space available. Need 4-6 weeks to arrange booking in advance. 12 blank sailings from week 49 to 51.
ONE/CMA/Cosco/ZIM limited space allocation. MSC release all space under premium only.
Equipment situation: All carriers' equipment are tight. 40HC is very short for CMA/ONE/Cosco. Limit CY date only 7 days before ETD. Not allowed to pick up container in advance even agree to pay Detention charge.
Indonesia
All shipments are rolling on average 3 weeks or more, even for carrier's premium services. All spaces to both USWC and USEC are fully booked till end of December.
Korea
All carriers' equipment still tight at Busan where we see heavy port congestion with a delay of 5-6 days. All spaces are fully booked till end of December.
Blank sailings:
WK49(PS6:TBA, PS8:TBA, TP12/Empire/ASUS2/ZBA:TBA)
WK51(TP11/Elephant/ZNF:TBA, TP88/Pelican/ASUS6/ZGX:TBA)
Your content goes here. Edit or remove this text inline or in the module Content settings. You can also style every aspect of this content in the module Design settings and even apply custom CSS to this text in the module Advanced settings.
Feeder suspension in South China for 6 weeks before 2020 Lunar New Year
Both Hapag-Lloyd and ONE have noticed that feeder operators will suspend services from late December until mid-February. This suspension is caused by the COVID-19 quarantine rules for ship crews who are facing quarantines of up to seven weeks before getting home for Chinese New Year in the first week of February 2022. Carriers will temporarily s suspend cargo acceptance to South China (Pearl River Delta Area and Fuzhou). The South China main ports on mainline services such as Hong Kong, Yantian, or Shekou will not be affected. We expect cargo from side ports in south China might see an earlier pre-lunar new year surge than usual. Please keep this in mind and plan your cargo at earlier time. (To view the full list of feeder ports, including the feeder suspension period, please click HERE  )
Bunker surcharge hikes in December
As oil prices surge, shippers are now facing soaring bunker surcharges. The degree of increase may be nothing compared to current high freight rates, but it may trigger an uplift in ocean carrier fuel mechanisms, increasing Bunker surcharges in the next few months.

"Emergency Fee" Surcharge – postponed to November 29, 2021
The Fee has been postponed through November 29th, and may update when container dwell data are reviewed once again. Below is the latest update from carriers.
Containers on the terminal as of 29 November 2021 (that are past the dwell times of 8 days for Import – truck Moves and 5 days for Intermodal Import – Rail)
For all existing overdue import containers (regardless of the number of days that they have been at the terminal), November 29 will count as the 9th day (or 6th day for intermodal) and the charge will start at USD 100.
Containers discharging after November 29
The charge will be applied fully as per the structure: USD 100 per container on day one, and increase by USD 100 per container for each additional day until out-gated from the terminal, based on calendar day, and there is no maximum cap set.
The above information is for reference only. However, should you have any inquiries, please do not hesitate to contact us. 
For rate inquiries: jmr-rates@jmrodgers.com | For export operations & inquiries: jmr-export@jmrodgers.com | For ISF submission and status inquiries: jmr-isf@jmrodgers.com | For import operations & inquiries: jmr-docs@jmrodgers.com | For traffic-related issues: traffic@jmrodgers.com 
Disclaimer 
Although J.M. Rodgers Co., Inc. (JMR) makes reasonable efforts to obtain reliable content, JMR does not guarantee the accuracy of or endorses the views and opinions given by any third-party content provider. JMR disclaims all responsibility for any mistakes or inaccuracies in the information. Further, JMR disclaims all liability for loss or damage resulting from the use of information in this newsletter.