Rate & Market Information
LA and Long Beach issue fines for lingering containers
NEW regulations to try and get containers out of the Ports of Los Angeles and Long Beach quicker are being enacted, including penalties for companies whose containers linger too long at the terminals, reports Singapore's Splash 247.
Arriving containers scheduled to be moved by trucks at the ports will be allowed to stay for nine days before fines start occurring. Containers set to move by rail can remain at the ports for three days.
After the days are up, ocean carriers will be charged US$100 per container, increasing in $100 increments per container per day. The new rules went into effect on November 1st.
"The terminals are running out of space, and this will make room for the containers sitting on those ships at anchor," said Port of Long Beach Executive Director Mario Cordero.
The Biden administration has recently allowed the ports to operate 24 hours a day to get goods unloaded quicker. The Port of Long Beach has also eased restrictions on stacking containers for three months, whereby stacks of four containers will be allowed on private property instead of two.
Sign up to Receive JMR's Freight Market Updates Delivered Directly to Your Inbox
Port / Space / Equipment Conditions
Carriers have been extending FAK rates on a semimonthly basis through 14 Nov at least. Spot rates and premium surcharges have fallen from the peak. However, upward pressure on freight rates is likely to remain in place. The main cause is overall capacity supply cut by severe vessel delay which is stemmed from the US port congestion. It's reported that the number of vessels at anchor awaiting berths at LA/LB has climbed back over 70 last week, and the waiting time is back to 12 days. So many ships are stuck in the queue and not able to come back to China/Asia to load new shipments. To avoid such delays at destination ports and recover sailing schedules, carriers have implemented huge blank sailing and port omission program, which conversely further decrease capacity supply in China and Asia.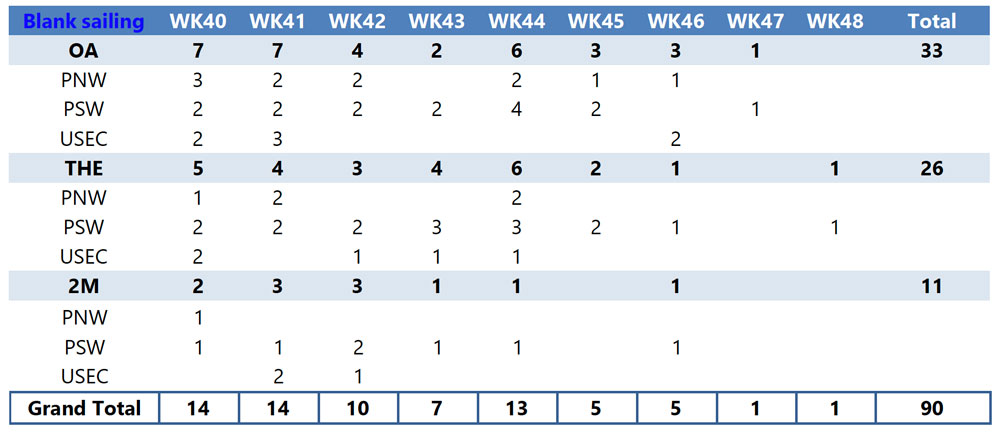 Ocean Alliance carriers also have a strong omission program to USEC, especially for Savannah where 25 ships are currently waiting at anchor for a berth and waiting times average 10-12 days already. 
The capacity to Savannah is going to be extremely tight in the coming weeks. We'd suggest considering Charleston as an alternative POD.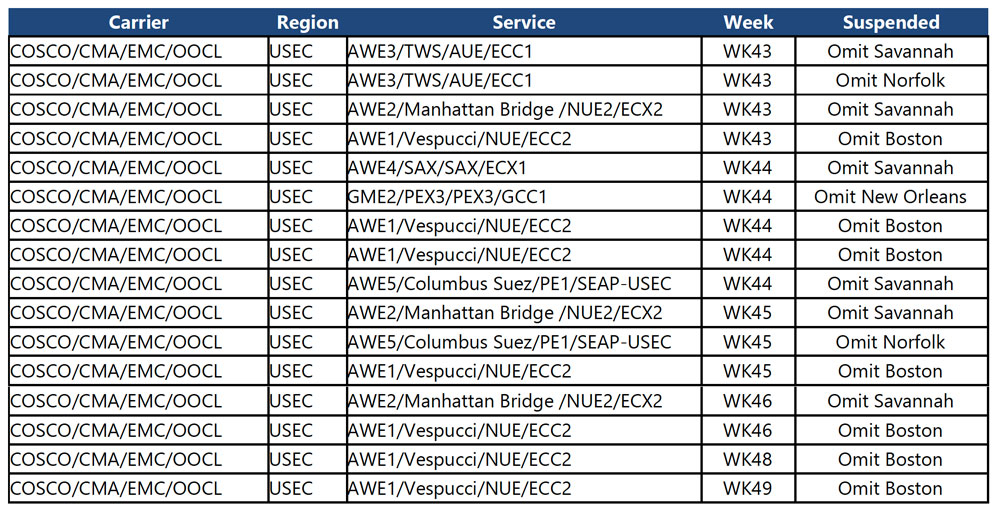 Carriers reinstate weekly service to Oakland
ONE will reinstate its PS5 service next month, with a port rotation of Shanghai, Ningbo, Los Angeles, Oakland. It is reported that there are no vessels waiting at anchor in Oakland, and the port has hired and trained hundreds of dockworkers to address the labor shortage. 
Other carriers including CMA, MSC, Wan Hai, and Matson have already resumed or intend to reinstate services over the coming months that they had suspended earlier this year. The main course, of course, is the congestion in LA/LB. Another incentive is to meet the increasing requirements from the US agricultural exporters who need vessel capacity to serve customers in Asia, by far their largest overseas market. The peak season for the US agricultural exports runs from October through March. 
The above information is for reference only. However, should you have any inquiries, please do not hesitate to contact us. 
For rate inquiries: jmr-rates@jmrodgers.com | For export operations & inquiries: jmr-export@jmrodgers.com | For ISF submission and status inquiries: jmr-isf@jmrodgers.com | For import operations & inquiries: jmr-docs@jmrodgers.com | For traffic-related issues: traffic@jmrodgers.com 
Disclaimer 
Although J.M. Rodgers Co., Inc. (JMR) makes reasonable efforts to obtain reliable content, JMR does not guarantee the accuracy of or endorses the views and opinions given by any third-party content provider. JMR disclaims all responsibility for any mistakes or inaccuracies in the information. Further, JMR disclaims all liability for loss or damage resulting from the use of information in this newsletter.